Exterior Climbing wall - Klimax Puurs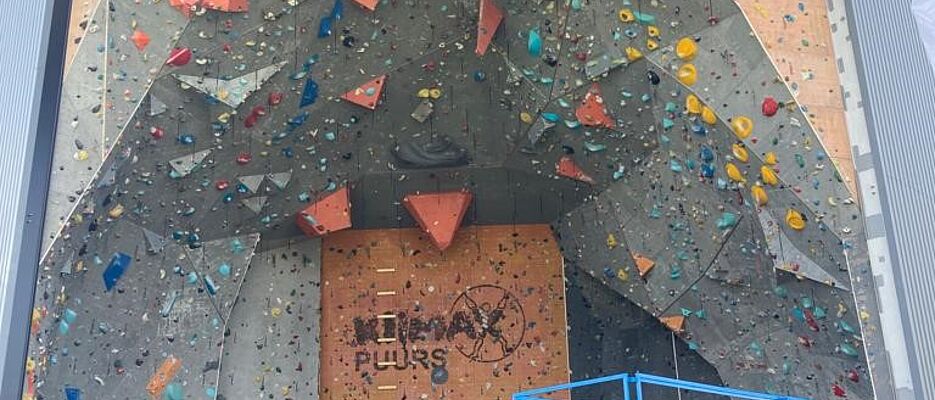 If you're a fan of rockclimbing, then you should visit our latest project in Puurs. For this project there was a combination used of 4900 MULTI-SURFACE PU HEAVY-DUTY VARNISH and Mathys Paracem Universal paint.
These paints are applied because of their versatile water-based qualities, suitable for use on a variety of surfaces, including concrete, plaster, and drywall. It dries quickly and is easy to apply, making it an ideal choice for painting a climbing wall. 4900 MULTI-SURFACE PU HEAVY-DUTY VARNISH paint also provides excellent coverage and is highly durable, which is essential for a climbing wall that will be subjected to regular wear and tear.
One of the most significant benefits of using Mathys Paracem Universal paint on a climbing wall is its excellent adhesion properties. The paint adheres firmly to the surface, creating a strong and durable bond that is resistant to peeling and flaking. This is especially important for a climbing wall, where the paint needs to withstand the constant abrasion and friction from climbers' hands and feet.
Its versatility, durability, and adhesion properties make it an excellent choice for this application, and its range of colors ensures that you can achieve the perfect look for your climbing wall.
Year:
2023
Country:
Belgium
Products:
Mathys Paracem Universal
Substrate
Concrete
Client:
KLIMAX Puurs
Used products
Matt universal paint for the outdoors
Usable on all surfaces, such as bricks, gutters, wood, aluminium, etc.
Colour and weatherproof for long-term protection
Protection of the dried coat against contamination by mould
Primer and finishing coat in one
Water-vapour permeable
Quick drying, recoatable in 1 hour

Available in matt or gloss
Very abrasion resistant
Does not yellow; ideal for interior and exterior
Resists boiling water, alcohol, coffee, red wine and dilute acid and alkalis
Anti-graffiti; easy to clean with GraffitiShield™ Cleaner